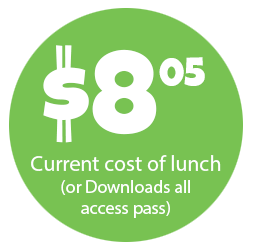 Like our Downloads?
Buy us lunch* and get an all access pass for 7 days!
We make a bunch of downloadable things like greeting card templates, background images, shapes, brushes etc. We also eat lunch.
Buy us lunch* and we'll share acces to all of our downloads with you for 7 days.
* this is for our Standard License - which is a non-transferable license for a single entity such as a Photographer or Designer whose clients are individuals/families or small businesses. This also covers personal use of course.
* price is based on a Chipotle burrito, with a side of guac, of course.
Buy Now: Standard License $8.05for Individuals and Photographers7 Days of Access to all Downloads
Use the button above to pay via PayPal (no account needed - Visa, MC, Discover and American Express are all available). As soon as payment is complete you will be taken to our paid-downloads page, and you will also receive an email with a link to the paid-downloads page. The paid-downloads page links will expire in 7 days, during that time you may download as many of our items as you wish, and may use them indefinitely. Please note that after the links expire, you will no longer have access.
See our Licensing page for more info. If you need a Commercial License, click here ($250).